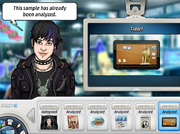 The laboratory is one of many gameplay features in Criminal Case.  It is a section that allows the players to analyze evidence.  The player can access the laboratory section of the game by clicking "Laboratory" at the bottom of the case screen.
Description
Edit
As a homicide detective, the player will obtain many pieces of evidence throughout the cases.  Certain evidence may require analysis, so the player will need to ship it to an individual personnel of the laboratory for analysis.
The analysis may take as long as 2 minutes, 5 minutes, 10 minutes, 15 minutes, 30 minutes, 1 hour, 3 hours, 6 hours, 9 hours, 12 hours, or 15 hours.  For autopsies, the first case requires only 5 seconds while the second case requires 25 minutes.  All other cases require 18 hours for primary autopsy jobs.  However, the analysis (or autopsy) can be done immediately by buying Instant Analysis with cash.
Once the analysis is over and the player clicks on "View Results", a cutscene will play in which the personnel will give important information to the player, which may lead the team to new suspects, further clues requiring examination, details about the killer, etc.
Lab Personnel
Edit
There are individual lab personnel for each police department featured in Criminal Case.  The Grimsborough Police Department consists of only three lab personnel, the Pacific Bay Police Department consists of four, and The Bureau consists of five.  Below is a table consisting of the lab personnel from each police department with their specific roles:
In Elite Mode, analyses and autopsies take twice as long to complete than in the original.